[ad_1]

According to the Deputy Head of the Office, these are non-state funds for which medical goods and personal protective equipment were purchased to combat the spread of coronavirus in Ukraine.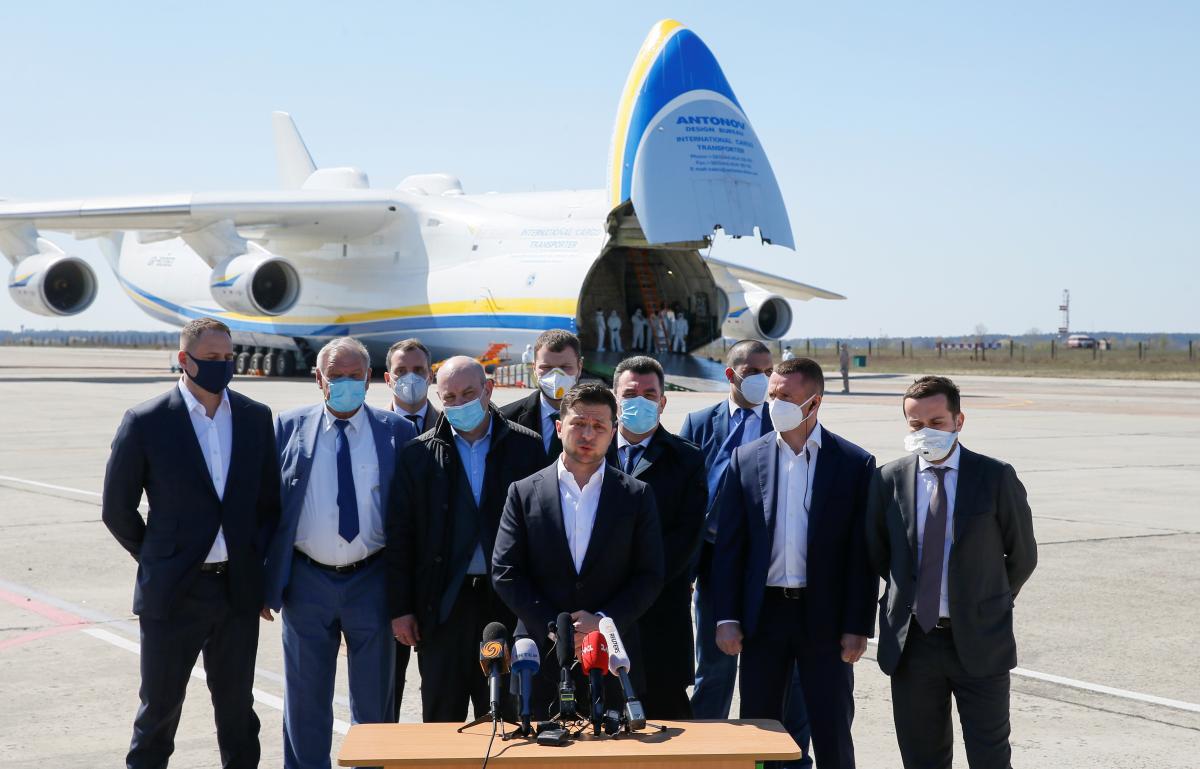 Vladimir Zelensky / REUTERS
The total budget of the COVID-19 Fund at the Office of the President of Ukraine amounted to UAH 374 million 620 thousand, of which UAH 155.6 million was spent on the purchase of products from Ukrainian suppliers.
Read alsoThe World Bank will allocate $ 135 million to Ukraine for medicine and coronavirus control
This was stated by Deputy Head of the Office of the President of Ukraine, Secretary of the Coordination Council for Counteracting the Proliferation of COVID-19 Kyrylo Tymoshenko on the air of the program "Freedom of Speech" on ICTV, the press service of the Office of the President.
Tymoshenko reminded that a month and a half ago President Volodymyr Zelensky held a meeting with big business to fight the coronavirus.
"It was decided that they (business representatives – UNIAN) will help the country to pass this stage in terms of purchasing protective equipment for our doctors, as well as for other services – police, border guards and so on. The business agreed and actually contributed money to the fund. And from this fund purchases of means of protection began. I want to emphasize at once: this is business money, this is not budget money, "Tymoshenko said.
According to him, at that time in Ukrainian hospitals the situation with the provision of medicines was extremely unsatisfactory – in fact, they did not exist.
"We have launched a so-called air bridge. We have started cooperating with various airlines to supply these protections from China. We actually had three types of cargo. The first is that the fund bought and brought in the interests of our doctors and police. The fund paid all the money for these planes. The second type of cargo is the same means of protection and medical equipment that the business purchased and transferred to the hospital or centrally to the Ministry of Health. The fund also paid for these deliveries, "said the deputy head of the President's Office.
The third type of cargo – to fill pharmacy chains and stores, where there was a shortage of personal protective equipment.
"99% of this was ordinary three-layer masks, which we did not have in pharmacies at that time. And if they were, then their price was 20 or 25 hryvnias … And here they are (commercial companies – UNIAN) turned to us: "Can you give us the opportunity to fly from China?" Because in fact it was impossible to make any deliveries from China or they were very expensive. We gave them such an opportunity, connected them directly with the airlines, and they paid for the planes themselves – for the masks they brought, "Tymoshenko said.
Thanks to this, in two or three weeks in Ukraine it was possible to reduce the price of masks in pharmacies from 20-25 hryvnias to 8-10 hryvnias, he said.
"That is, in fact, by allowing commercial companies to bring masks, we have reduced the existing price and filled the Ukrainian market with masks," said the deputy head of the President's Office.
According to the operational report, the total budget of the fund for liquidation of consequences of COVID-19 at OP made 374 million 620 thousand UAH. Products worth UAH 155.6 million were purchased from 12 Ukrainian suppliers, and UAH 182.6 million from seven foreign suppliers.
UAH 33.6 million was spent on air delivery of medical supplies. Expenditures on customs clearance, logistics and freight services amounted to 286 thousand UAH.
There were 10 flights to the Chinese city of Xiamen, four flights to Guangzhou, three flights to Beijing, and four flights to Seoul (Republic of Korea).
It was purchased: respirators – 1 million 127 thousand at an average price of 74.32 UAH / unit, biosecurity suits – 173 thousand at an average price of 416.16 UAH / unit, reusable biosecurity suits – 12 thousand at an average price of 1050 UAH / unit, goggles – 60 thousand at an average price of 111.52 UAH / unit, PCR tests of foreign production – more than 100 thousand at an average price of 231.2 UAH / unit, PCR testing kits of Ukrainian production – 600 thousand per with an average price of UAH 58.02 / unit, face shields – UAH 50,000 at an average price of UAH 46.78 / unit inits, thermometers – 21.5 thousand at an average price of 17.7 UAH / unit, rapid tests – 150 thousand at an average price of 173 UAH / unit, more than 6 million medical gloves and many other special tools and equipment.
"You see the prices – they are very low even for the Chinese and Korean markets. These are the prices at which we actually "knocked out" the means of protection in China, "Tymoshenko said.
The remedies were then distributed through health departments to each region of Ukraine, as well as to the needs of the police, border guards, the military and other agencies working closely with the public, he added.
As UNIAN reported, as of the morning of May 5, 12,697 cases of coronavirus COVID-19 were registered in Ukraine, and 366 new cases were registered last day.
The Cabinet of Ministers imposed a nationwide quarantine in March to counter the spread of coronavirus infection, after which it extended it until May 11. Yesterday, May 4, the government extended the quarantine until May 22, removing a number of restrictions on business.
If you find an error, select it with the mouse and press Ctrl + Enter


[ad_2]