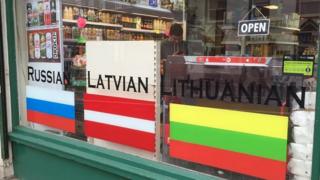 To leave? To stay Sit on benefits? And how long will they pay it? Hundreds of thousands of immigrants in Britain, including low-skilled Lithuanians and Latvians, faced a difficult choice and extremely vague prospects due to the pandemic.
In Britain, according to rough estimates of its authorities, about 200 thousand Lithuanians and about 100 thousand Latvians live. In total, immigrants from the EU are about 3.5 million, and at least 2 million of them are employed. The rest are mostly children, old people and students.
Many of them work in the food service and hotel industry, the Bureau of National Statistics of Great Britain informs in its regular "Labor Market Review". And these are precisely the areas in which the coronavirus hit the hardest. When and how much they will recover, no one can say.
"My heart breaks when I think about these people … Their jobs disappear. Did they have a choice: to stay or return to their country? And this is a difficult choice, because those who return will have the opportunity to find work in their homeland, in the near future, they don't look very promising, "said Ofon Anastasakis, a senior fellow at the Center for European Studies at St Anthony's College, Oxford University.
Now the UK pays generous benefits: 80% of the salary (but not more than 2500 pounds per month) to wage earners and up to 2500 pounds per month self-employed. Finance Minister Rishi Sunak promised to pay these benefits until October, but they may be reduced by August.
Most of those whose firms, pubs, hotels are now closed, sit on these benefits – some in Britain, some at home – and discuss on forums and social networks what to do next: the treasury is not bottomless, benefits will not be paid forever when whether it will be possible to return to work and whether it succeeds, is also incomprehensible.
And some immigrants from the Baltic countries found themselves in a very distressed situation: their companies resume work, the payment of benefits stops, and at that time they are locked up in their native countries – the borders are closed, there are no direct flights.
"Every week, dozens of people call us who need to return to work in the UK," said Latvian Foreign Ministry spokesman Janis Bekeris to the Russian BBC service. "We do not plan direct repatriation flights now. I think they won't be there for long."
Arrived for a week and stuck for two months
How did it happen that these people were on the other side of the border from their jobs? The start of lockdowns in Europe was in March, the last month of the fiscal year in Britain, when many take unused vacation days. Workers from Eastern Europe head home.
"Before the borders were closed, my friend and I flew to Latvia. At first we thought that everything would be all right, we would go back, but unfortunately we couldn't. We bought tickets, but the border guard didn't let us through. We asked for documents – a working contract, confirmation of status in the UK. We have everything left in the UK, we didn't take with us. Two months have passed, and we are still in Latvia, "says Linda.
She does not receive benefits from the British or Latvian side – she says she was self-employed.
Why Russian TV is being saved in Latvia and what does coronavirus have to do with it?
Why Latvia has the least cases of coronavirus in the region
"I came to stay with my relatives for a couple of weeks, at the same time to have my teeth cleaned. I've been living in England for 10 years, I have permanent resident status, but I don't have a British passport, so for three months now I can't get to my wife and child," Latvian EBC service Latvian Erik – was supposed to start working for a new company on April 13. But due to the chaos caused by cove, I still sit in Latvia without a clue how I can get back. The British Embassy refused to help the reason for the lack of a British passport. "
The British Embassy in Latvia informed the BBC Russian service that usually the consular department helps British citizens, but mainly those who do not have a second citizenship: "As a rule, we cannot help people with dual citizenship if they are in the country his second citizenship. "
Coronavirus: five countries that will be the first to restore the economy and return to normal
Until the end of May, the Baltic residents of Great Britain stuck in their homeland had a serious problem with returning to their homeland: there are no direct flights, and it is not known when they will be, flights with transfers are very expensive, and ground passage was closed.
Since May 21, this problem has disappeared: Poland has opened borders for the transit of foreigners. However, Great Britain, for its part, has already announced that a new complexity will appear from June 8: a mandatory two-week quarantine for arrivals from abroad.
Benefits that are not
In theory, the Latvians, Lithuanians or Poles stuck abroad should have received British benefits. Employment Specialist at British law firm Fox Williams Jane Mann believes that they also fall into the category of people who lost their jobs due to a pandemic.
"Initially, the mechanism was intended for cases when an employer, due to a pandemic, cannot pay an employee or when it is impossible to work due to company closure. Then its effect was extended to those employees who are forced to quarantine or with children. According to the same logic, the action the mechanism should also apply to workers who cannot return to Britain, "explained Jane Mann to the BBC Russian Service.
In practice, this does not always happen. The BBC Russian Service was contacted by 13 Latvians who were stuck at home. Nobody receives benefits: in some cases, employers refuse, in other cases, people are sure that they cannot apply for it – for example, because of the status of a self-employed person.
Although in fact, the self-employed also have the right to benefit – only they themselves must submit an application on the tax service portal.
UK-based accountant and business consultant Alexey Evstafiev says the employer has no good reason not to apply for employee compensation.
"If the company is in sleep mode, then it's just the time to apply for compensation – to agree, of course, with these employees that it suits them that they will serve their quarantine in the Baltic countries or where they sit, with 80% of the salary. And if it's a company that already needs workers to work locally, and they are stuck somewhere, all the same: if the company appreciates these workers, then nothing prevents it from receiving compensation for those who are stuck, and at this stage recruit those who would temporarily fulfill their role, "said Yevstafyev to the BBC.
No taxes – no state aid
Compensation of salaries or incomes, however, is not paid to everyone, but only to those who paid taxes – or for whom they paid, if we are talking about an employee.
"We will be honest, many worked there illegally, some did not declare a place of residence, there is no work contract, plus they are still registered in Latvia. The crisis has shown that if there is no orderly relationship with at least one country, then there are big problems," says Janis Bakeris from the Ministry of Foreign Affairs of Latvia.
The chairman of the Lithuanian community of Great Britain, Dalia Asanavichyute, says that they were also contacted by people who, due to the lack of "orderly relations", found themselves without benefits and without any means of livelihood. True, such units.
"They just worked without taxes. You know this classic scheme: they accept living and working, employers don't pay taxes, deducting for food and housing, and so on. These are the people they stayed on the street," Asanavichyute told the BBC si.
The problems of such victims of the modern slave trade are solved by the Lithuanian community together with the British and Lithuanian police.
Escaping Pandemic and Brexitis
As a result, the pandemic and the coming economic crisis may lead to a massive outflow of East European guest workers from Britain, that is, to strengthen the process that began after the Brexit referendum.
According to rough estimates by the UK Bureau of National Statistics, the balance of migration from the EU in recent years has decreased four times: a year before the referendum there were more than 200 thousand more than those who left, and in the year from July 2018 to June 2019, the increase amounted to only about 48 thousand.
Dalia Asanavichyute says that many Lithuanians have long been preparing to leave Britain.
"In general, the whole situation has completely changed. Those who arrived ten years ago say: it was easier to earn money, it was easier to find work, the salary was bigger (in relation to expenses). And now it's more complicated … And we already see that "Something like this happens on the subject of" British is not British, "argues Asanavichyute, who is planning to return to Lithuania herself this year.
Passing score. Britain decided on what conditions will let migrants
Reducing the difference in living standards between the UK and the Baltic countries – although it is still very far from equality – also, according to Asanavichyute, plays a role: "In Lithuania, the economy is rising. Well, now there is a crisis, but before the crisis, people are now not so bad "they live like they did when many left, say, twenty years ago. And they leave because of the children, because grandparents are usually in Lithuania."
From the new year, when the UK will not only formally, but actually leave the European Union, it will become very difficult for East Europeans to come to work for it: according to the plans, labor immigrants from the EU will need to receive residence permits and employment.
In this case, immigrants will be selected according to a point system, which, according to the government's plan, should stop the flow of low-skilled labor.
"A pandemic can lead to the very repatriation from Britain, which the native countries of the emigrants had hoped for, who had lost energetic and able-bodied citizens in the last thirty years. But the question is whether these native countries will find the strength and resources in the post-coronavirus world to keep these citizens, or they'll lose them again, because they will leave again – only this time to another country, "Dr. Offon Anastasakis from the Center for European Studies wonders.