this material is available in Russian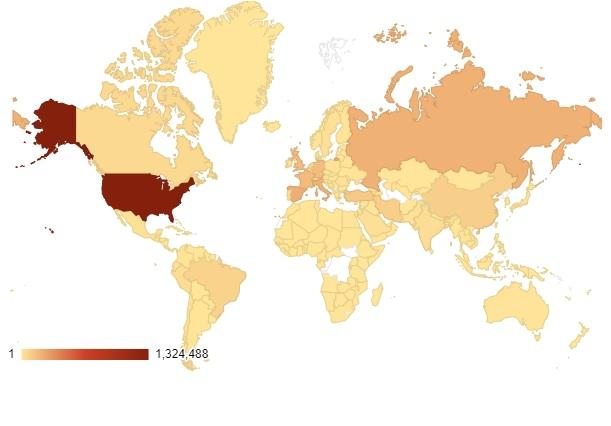 Coronavirus spread map May 20, 2020
COVID-19 coronavirus distribution map gisanddata.maps.arcgis.com, which publishes real-time updated statistics from Johns Hopkins University's Center for Systems Science and Engineering (Johns Hopkins CSSE), shows that as of May 20, 2020, 4,901,773 people are infected worldwide.
The number of coronavirus infected in the world on May 20, a dozen leaders
1,528,566 United States
308 705 Russia
271 885 Brazil
250 138 Great Britain
232 037 Spain
226 699 Italy
180 933 France
177 778 Germany
151 615 Turkey
124 603 Iran
Number of infected COVID-19 by country: infographics
The number of coronavirus victims in the world is a map
323,413 people died from the coronavirus. The death toll in the United States was 91,938. 35,422 people died in Great Britain and 32,169 in Italy. Around the world, 1,691,491 people have recovered.
What is coronavirus: official information
Coronavirus infection COVID-19 is an infectious disease caused by a new coronavirus that has not previously been detected in humans.
Exposure to this virus leads to the development of respiratory influenza-like illness with symptoms such as cough, fever and, in more severe cases, pneumonia. To protect against infection, wash your hands often and do not touch your face with your hands.
How the infection spreads
The new coronavirus is transmitted mainly as a result of contact with an infected person by coughing or sneezing or by airborne droplets when inhaling drops of saliva or secretions from the patient's nose.
If you find an error, select it with the mouse and press Ctrl + Enter