MOSCOW, Mar 20 – RIA Novosti, Anastasia Gnedinskaya. "I rinse my throat with chlorhexidine, treat the common cold with normal drops, lie in a single room, study with an English tutor," Vitaly Mironov describes his everyday life. He is one of 199 coronavirus-infected Russians with an officially confirmed diagnosis. For the fifth day, the young man is in the infectious diseases hospital in Kommunarka. And leads a "case history" on instagram. Vitaliy told RIA Novosti about the first symptoms, about what he was being treated for and in what form the doctors came to his room.
"There was chills, aching joints"
In early March, Mironov and his wife rested in Barcelona. We bought tickets in advance, and despite the disturbing news, we decided not to cancel the trip. "At that time, Spain had not yet been quarantined, there were only a few sick people. All the cafes worked, the streets were full of people. And I don't remember anyone walking in a mask."
The Mironovs returned to Russia on March 10. Vitaliy says that they didn't even measure the temperature at the airport. "Now everyone who has arrived from Europe is being tested for coronavirus. But at that time Spain was not yet included in the list of countries with a dangerous epidemiological situation. Accordingly, the passengers did not pass any control. And no one told us about self-isolation."
The next day, Vitaly went on business, met with two colleagues. And on March 13th I felt bad. "There was chills, aching joints. The temperature started to rise. In fact, the symptoms are exactly the same as with SARS. On your own, without testing, you will never distinguish coronavirus from a respiratory viral infection," Mironov notes.
But Vitaliy has not been ill for the last ten years. This alerted him. "I called the hotline, reported symptoms and returned from Spain. I was advised to call an ambulance."
Within half an hour the brigade was at his home. "The doctors wore white protective suits, masks and goggles covered my face. My wife and I were tested. Then other teams came to us and took smears. On March 15 they called me from Rospotrebnadzor and said that I had a positive result. My wife the coronavirus wasn't confirmed. She was left in quarantine at home and I was taken to the infectious diseases hospital in Kommunarka. "
– When you heard the diagnosis, didn't panic?
– No, I do not succumb to mass hysteria. Moreover, at that time it was already clear that for a young body, coronavirus is not particularly dangerous.
They hospitalized him that day. "To be honest, I thought they would put me in a special module. In China, the patients were transported to such. But they just gave me a mask, I packed my things, and we went to the ambulance."
– There was no feeling that the medical team is afraid to contact you?
– Not. They did not shun, did not sit down. While traveling, they said that there were already quite a lot of calls with suspected coronavirus – they were used to it.
"You can even order food delivery"
In the hospital, CT of the lungs was the first thing Vitaly did. Then they were placed in a single room. "I have a separate bathroom, there is a TV, radio, Wi-Fi." The key door does not close. If desired, I can go out. Although I was immediately warned: it is strictly forbidden to do this. "
Mironov admits: he thought that they would give him food through a special window in the door. But in Kommunarka breakfast, lunch and dinner are brought directly to the ward. To do this, the staff wears a protective suit.
"In general, everyone who comes to me is in special protection – both the nannies who wash the floors, and the nurses who distribute the thermometers, and the doctors. I didn't see anyone here without a suit. At first it looks scary: it's like I got into a film about the epidemic. Then you get used to it "Says the young man.
Despite the infectious status, the hospital has fairly loose practices. "You can even order food delivery – and they will give it to you. The only thing banned is pizza. I don't know why."
– Are there many patients?
– We have a closed chat in which patients communicate. It has about sixty people. But COVID-19 is confirmed for a maximum of three to four, including me. The rest are either those whose test results have not yet arrived, or who have contacted patients. In total, as they say, there are about 500 patients in the hospital. I think with a confirmed diagnosis of a maximum of twenty. But today I saw through the window how extra beds were brought in, which means it will be added.
According to Vitaliy, there are no severe patients among those whose coronavirus is confirmed. "Someone has a high temperature, someone has a cough. For me, a throat sore for several days. Now it's gone. Only a runny nose and a slight temperature – 37.1. Doctors said that a slight increase in temperature is even good. So , the body is fighting the virus. If there are complications, I will be offered another therapy. But at this stage I don't need anything. Since there is no special drug for coronavirus, they are treated as in the usual ARVI: now I drip drops into my nose when my throat hurts, I gave chlorhexidine – for rinsing. "
On the first, third and tenth day in the hospital, patients are tested. Vitaliy has been lying since March 15 – there are no results yet. "Today, a doctor came to me and explained that a positive result comes pretty quickly, a negative one only after a few days. But even if I don't find a coronavirus after a second examination, they can write it out only after fourteen days – after the incubation period."
"The nurse gave me her toothpaste"
The young man decided to carry out forced isolation for the benefit of himself. "I study on the Internet with an English tutor, I read a lot. I started to do push-ups and perform other simple physical exercises. So far this condition does not bother me much. But those who are too close to my heart perceive the disease can be invited by a psychologist."
Doctors, assures Vitaly, also support patients. "Everyone is positive, they are joking. And they help as they can. Today I have run out of toothpaste, so the nurse gave her away."
– Your spouse is still in quarantine?
– Yes. And right after I was hospitalized, they called her from the police – they checked whether she was observing the isolation regime. They also said that her neighbors allegedly saw her on the street. Although she did not go anywhere these days. Apparently, the policeman tried to check her like that. The colleagues I met were also quarantined. One has already been tested, another has not yet.
"You write openly that you are sick." Are you not afraid that after discharge from you neighbors will shy away? Our people are still suspicious.
– Not afraid. This is their own business.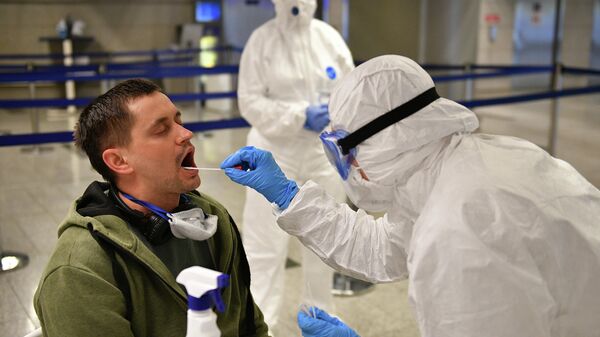 Yesterday, 20:30

RIA Science
The doctor spoke about the main mistake of the deceased patient with COVID-19
– You have already been told whether it is possible to appear in public places immediately after discharge? Or will you still need to sit in quarantine?
– No, not yet spoken. But, probably, for prevention, I still isolate myself for a while.
At the end of the conversation, Vitaly sends a photo of the dinner. "Today we have buckwheat with meat. I know that we can't get it in stores now. But we don't have problems with this, you can ask for supplements," he jokes. By the way, there is no restaurant coat and plates: food is brought to patients only in disposable containers.