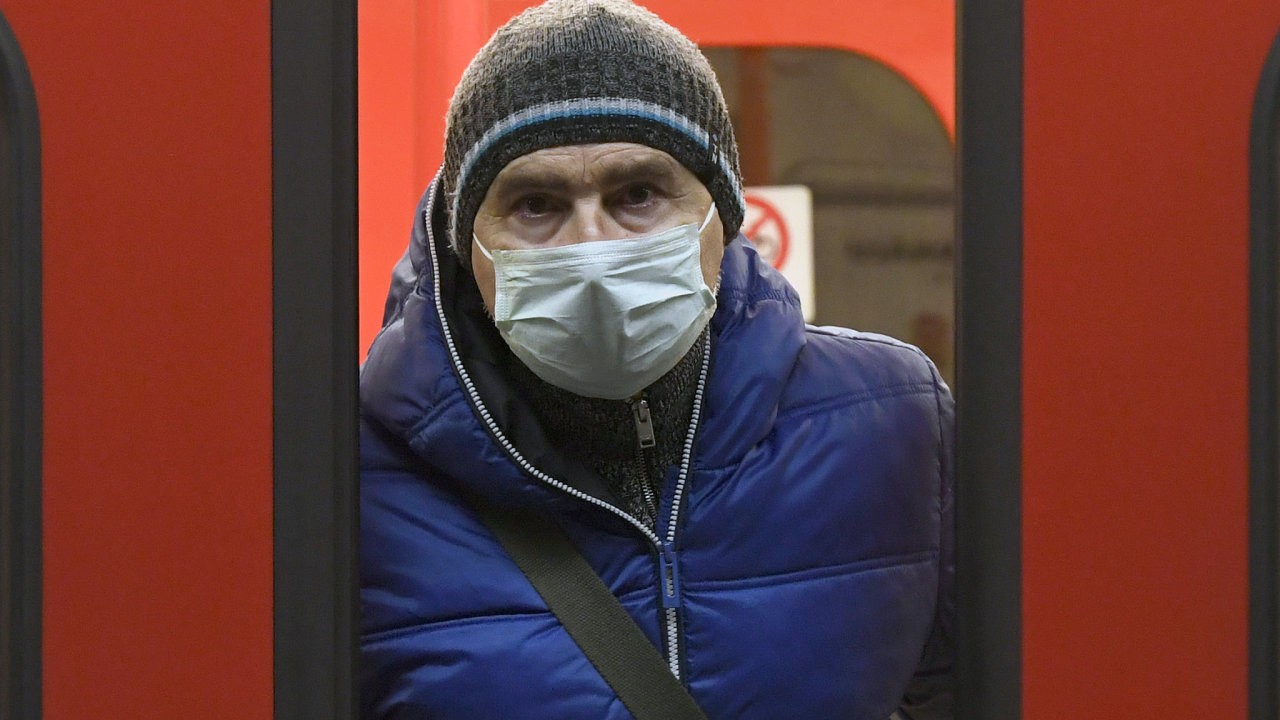 Since midnight on 17 March 2020 it is necessary to have covered mouth and nose in public transport in Prague.
author: ČTK – Michal Krumphanzl
The Czech Republic has the first three patients cured of the disease COVID-19 caused by a new coronavirus. There are 396 confirmed cases.
Due to the higher number of infected hygienists, they closed 21 municipalities in the Olomouc region and Kynice in the Havlíčkův Brod region for at least 14 days.
As of Monday, the government has banned the free movement of people throughout the country, except for travel to work, for basic necessities, or to a doctor. The borders are closed.
Politicians urged citizens to cover their mouths and noses on the streets, but there is still a lack of drapes.
On Monday, the government recommended that seniors over 70 years old should not leave their homes during an emergency.
It has forbidden residents of retirement homes to leave these facilities.
Representatives of the government also said that the Prague-based Homolce Hospital and the St. Anne's University Hospital in Brno will be prepared for patients with coronavirus within one to two weeks.
The Czech crown and the Prague Stock Exchange are responding to a slump, according to the Governor of the Czech National Bank, it is clear that a sharp economic downturn will occur.
The exact wording of the Government Resolution on Restrictions on the Movement of Persons, including all exceptions, can be found HERE. All crisis measures issued by the government so far can be read HERE.
Economic topics related to the coronavirus pandemic are monitored in a special online report here.
17.3.2020 16:07
| Coronavirus has been confirmed in another 400 people in Britain
Britain already records 1950 cases of coronavirus infection after another 400 people have confirmed its occurrence since Monday. In the day, the balance increased by 26 percent,
by Reuters.
According to the UK Department of Health, more than 50,000 people have been tested for coronavirus in the country.
17.3.2020 16:05
| There was only a fraction of the usual number of viewers at Czech cinemas this weekend
There was only a fraction of the usual number of viewers at Czech cinemas this weekend. The reason was the government's decision to cancel all mass events involving more than 100 people and then 30 people. While at the weekend of 7th and 8th March approximately 242,000 viewers attended domestic cinemas, after the current measures it was 5500 viewers.
17.3.2020 16:03
| Malaysia reported the first two victims of coronavirus
Malaysia reported the first two victims of the new type of coronavirus today. One of the dead is a man who attended a religious gathering attended by 16,000 people,
informed Reuters today
. The total number of infected people in the country increased by 120 to 673, the highest in Southeast Asia.
17.3.2020 15:59
| Northern Macedonia postpones early elections due to coronavirus
Northern Macedonia today joined countries that postponed the election due to a coronavirus pandemic. All political parties agreed that early general elections on 12 April were postponed, the chairman of the ruling Social Democratic Party Zoran Zaev told the media.
17.3.2020 15:53
| Prague 9 is setting up an information service and assistance for seniors
Starting today, the social services of Prague 9 offer the possibility to order a purchase that will be delivered to seniors and disadvantaged people to the house by a volunteer. The Town Hall has also newly established an information service. It will work from Wednesday, March 18. This was stated by spokeswoman of Prague 9 Marie Kurková.
17.3.2020 15:47
| People should play sports even during a pandemic, says the doctor
Even during a pandemic and limited movement, it is possible to remain active and maintain a healthy spirit in a healthy body. Government measures to mitigate the spread of coronavirus have closed all indoor and outdoor sports, but people can go into the countryside, advises doctor and founder of the Pro Fit Institute Marie Skalská.
17.3.2020 15:44
| In Italy, it will strengthen the care of infected 10,000 medics, postpone their tests
In Italy, 10,000 medical students from the last years of medical faculties will strengthen medical care for coronaviruses, for which the state will forgive their final exams and send graduates straight into practice. This was announced by the Minister for Science, Research and Higher Education Gaetano Manfredi, according to which young doctors will head in particular to health centers, outpatient clinics and homes for the elderly. This should allow their older and more experienced colleagues to work in hospitals.
17.3.2020 15:42
| The manufacturer of hats Karpet put on sewing masks
The manufacturer of hats Karpet from Bzenec in the Hodonín region stopped production and started sewing masks, which are in short supply in the Czech Republic in connection with the spread of infection by coronavirus. Six seamstresses are working on the drapes production, said Monika Jeglová, head of the Carpathian Mountains today. The company produces two types of drapes that can be washed and reused. It serves individuals and companies.
17.3.2020 15:40
| On the web you can browse collections and see artists' studios
While it is not possible to go to art exhibitions due to government measures against the spread of coronavirus, it is possible to visit several studios of Czech artists on the Internet. Ateliers of Joska Skalník, Kristof Kintera, Roman Týc and Pasta Oner can be seen through
iRozhlasu site
. They can also look at how and where Jiří Kovanda, Josef Bolf or Jakub Špaňhel make.
17.3.2020 15:39
| Skilled employees receive 70 percent of salary, then 75 percent
Škoda Auto officially confirmed the cessation of production in all three Czech factories due to coronavirus. Production will stop this Wednesday at 22:00. Employees will receive 70 percent of salary from 18 March to 29 March, then 75 percent. There are already two confirmed cases of coronavirus infection, writes management in a letter to employees.