With the aim that the centers for the care of the elderly in Spain are prepared for the spread of the coronavirus, the Business Circle of Care for People (CEAPS) has sent a protocol to the residences and day centers so that they have the information and training necessary to implement preventive measures and response to any case of coronavirus.
With this initiative from CEAPs it is "To avoid confusion and uncertainty tries to emphasize prevention and awareness among both workers and users of different centers, with special attention to equipment for the elderly, one of the groups most sensitive to this virus", as pointed out Paschal ribbon, president of the Business Circle of Attention to People, pointing out that there is a control of each communication before which "We follow the ministerial protocols and those of the corresponding Autonomous Communities".
In the case of relatives of the elderly "What we advise is to refrain from visiting older people who have any type of symptom that coincides with those of the coronavirus or who have traveled to one of the risk areas", advises Cinta Pascual, who also explained that the measures are tailored to each affected area and the socio-sanitary policy of each center.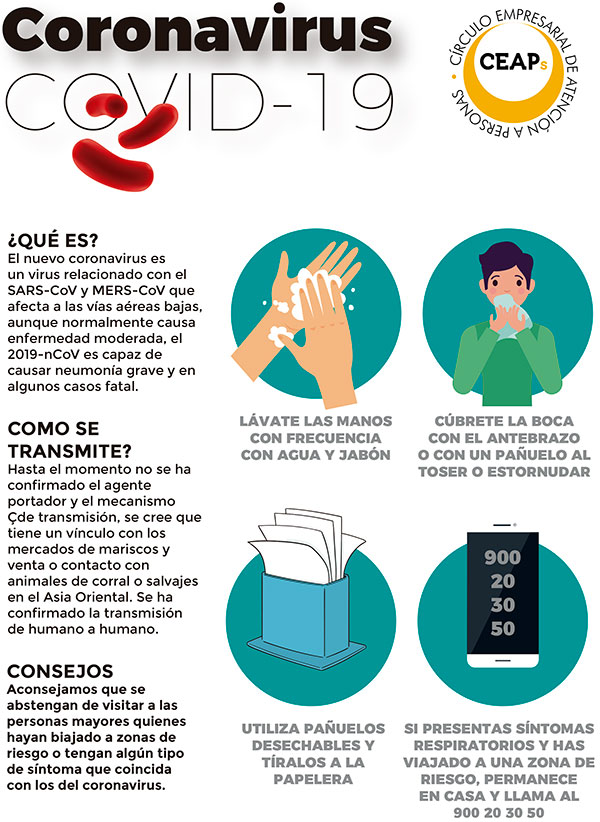 For its part, from the Spanish Society of Geriatrics and Gerontology (SEGG) it is recommended to visit the website of the Ministry of Health to know the latest news on the development of the disease and action protocols, as well as the web pages of the different Health Departments of the Autonomous Communities.
The Dr. Javier Gómez Pavón, member of the Leadership Team of the SEGG and Head of the Geriatrics Service of the Red Cross Hospital of Madrid, analyzed in the Antena 3 TV Newsletter the necessary care for the Elderly and prevention actions, at this time of concern caused by the Coronavirus. Dr. Gómez Pavón highlighted the good judgment of older people to go to the ER and recommended avoid crowds, take extreme hygiene measures and reduce external contact. He also called on caregivers to take care of themselves, noting that when a new Coronavirus vaccine comes out, this disease will become commonplace. Lastly, he pointed out that the flu vaccine does not work in the face of the current situation, adding that in Europe the death rate is barely 1% and in China 2.5%.